Enrique De La Cruz, Ph. D.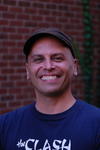 Professor and Chair, Department of Molecular Biophysics and Biochemistry, and Head of Branford College
Address:
266 Whitney Ave, New Haven, CT 06511-8902
Office: +1 (203) 432-5424, Lab: +1 (203) 432-3094
BIOGRAPHY
Enrique M. De La Cruz, Ph.D. is a Professor in the Department of Molecular Biophysics and Biochemistry (MB&B) at Yale University. He is a first generation Cuban-American who was raised in Newark, NJ. Dr. De La Cruz received his undergraduate degree in Biology from Rutgers University where he was inducted into Phi Beta Kappa and Beta Beta Beta Honor Societies. He earned his Ph.D. degree in Biochemistry, Cell & Molecular Biology (BCMB) with Dr. Thomas D. Pollard at Johns Hopkins University School of Medicine and received postdoctoral training in the laboratories of Drs. H. Lee Sweeney and E. Michael Ostap at the University of Pennsylvania School of Medicine. He was a Visiting Scientist at Centre National de la Recherche Scientifique (CNRS), Commissariat à l'Énergie Atomique (CEA) & Université Joseph Fourier in Grenoble, France in 2009, a Mayent-Rothschild Senior Researcher Fellow at the Institut Curie, Paris in 2015, and an Invited Professor Fellow at ESPCI Paris Tech (école supérieure de physique et de chimie industrielles de la ville de Paris), Paris in 2016.
Dr. De La Cruz has published extensively in the areas of actin and myosin regulation, RNA helicases, and signaling enzymes, for which he has received a number of awards and honors. Among them are the American Heart Association Established Investigator Award, NSF CAREER award, Keith R. Porter Symposium Award from the Society for General Physiologists, and a Hellman Family Fellowship. He was the Abbott Distinguished Lecturer at Purdue University, Plenary Lecturer at the Ibero-American Congress of Biophysics Meeting held in Brazil, Plenary Lecturer of the 44th Annual Meeting of the Biophysical Society of Japan, and has delivered Keynote and named lectureships at Washington University in St. Louis, Johns Hopkins, University of Pennsylvania, Duke University, Notre Dame, University of North Carolina, Rutgers University, and the University of Illinois.
Dr. De La Cruz is actively involved with various scientific societies, journals and peer review committees. He has or currently serves on the Editorial Board of the Journal of Biological Chemistry, Biophysical Journal and Biophysical Reviews, the Publications Committee of the American Society for Biochemistry & Molecular Biology (ASBMB), and the Macromolecular Structure & Function C Study Section of the National Institutes of Health. He has organized annual national meetings for ASBMB and Biophysical Society, served on the Biophysical Society Council, chaired its Nominating Committee, and served on research panels for the NSF, American Heart Association, as well as funding agencies in England, Israel and France. He also serves on the Scientific Advisory Boards of Myokardia, Inc. in San Francisco, CA and Inozyme Pharma LLC in New Haven, CT.
EDUCATION & TRAINING
| | |
| --- | --- |
| PhD | Johns Hopkins University School of Medicine (1997) |
HONORS & RECOGNITION
Established Investigator AwardAmerican Heart Association (2009)

NSF CAREER AwardNSF (2006)

Abbott Distinguished LecturerPurdue University (2003)

Keith R. Porter Symposium AwardSociety for General Physiologists (2001)

Life Sciences Research Foundation Postdoctoral Fellowship AwardLife Sciences Research Foundation (1998)

Commencement SpeakerJohns Hopkins University School of Medicine (1997)